qReveal QR code menus and price lists included a "Wish list" feature.
When browsing a QR code menu or price list, customers can tap the heart icon next to items they are interested in.
This adds it to a running list that can be accessed by tapping "Wish list" in the bottom navigation bar.
The idea is that customers can add items to this that they are interested in ordering — either for themselves or their entire party. Then, when it comes time to order, they can pull up the wish list and read the items off to the server quickly and easily.
Removing items
Items can be removed from a wish list by tapping the heart icon again or clicking the "Clear all" button as outlined by the pink boxes in the screenshot below.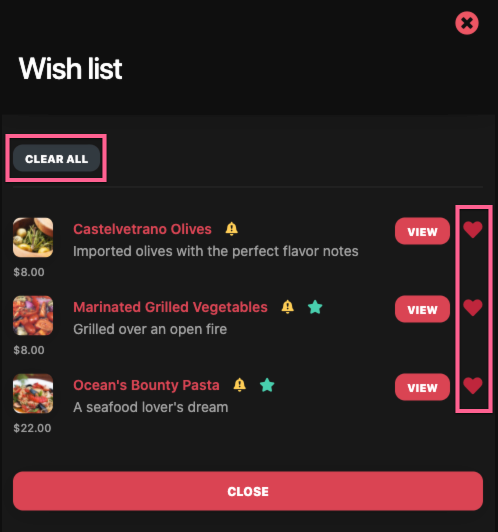 A few notes
The wish list feature does have some limitations:
Each device has its own wish list. There is no way to combine wish lists from multiple devices onto a single one. An alternative is to share a single mobile device if you can do so safely (for example, only share with your family members).
Wish lists are "remembered" by a device indefinitely, but can be erased if a user erases cookies, changes settings or due to other factors.
If the user returns to your business, scans the code with a different device than they used during the first visit, the wish list will not be "remembered."
You can edit the label used for the wishlist feature as well.