Some businesses prefer to use "prestige pricing" that does not include any decimal points. You can enable this feature for your entire account.
This update this setting, go to Settings in the admin navigation and then look for the "Currency" section. Check the box next to "Hide trailing zeros on prices." Then click the Save button to make the change become activate immediately.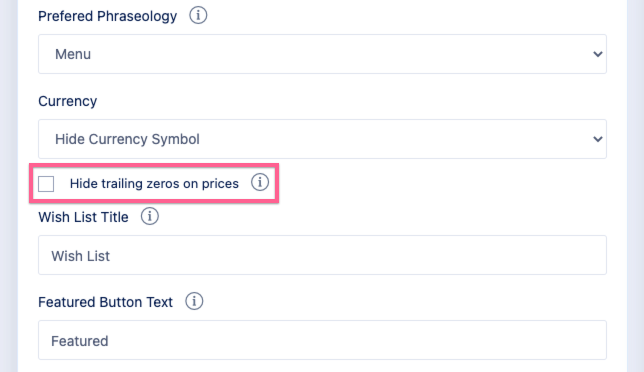 If you wish to turn off this feature and begin showing zeroes again, simply uncheck the box and click the Save button.
There are some important things to note about this feature:
You will continue to see trailing zeroes (.00) under items and modifiers in the admin area but your customers will not see the zeroes if this feature is enabled.
If you have the trailing zeroes feature on, you can simply type the number, without decimals, when creating items (for example, use "2" instead of "2.00").
The system will automatically add the trailing zeroes to your item or modifier when you save, but if the hide trailing zeroes feature is enabled, it will not appear for your customers.
Prices will not be rounded or otherwise modified when this feature is enabled. Instead, the system will simply cut off any decimal values. If you decide you'd prefer to charge $3 for an item or modifier, for example, but have it entered as $2.99, you will need to manually update the item or modifier.